On a recent visit to BERNINA headquarters near Chicago, I stopped in at the Art Institute of Chicago. Not being out recently, it was a great experience and ignited my creative juices seeing artworks that are both famous and new to me. I stopped in the gift shop – I like a good museum gift shop – and saw a paper vase next to it Spanish designer Marcel Baer for Octaevo. The concept is simple: a paperback, in the shape of a Greek urn, slides over those ubiquitous glass cylinder vases we all have in the cupboard. I thought, "Hmmm. I think I can expand on this idea and get really creative all by bold deconstruction and using all those great decorative stitches on my BERNINA 590."
Here are basic guidelines and a template for you to unleash your creativity. The template is versatile. I installed them on a wide variety of glass vases, including 9″ x 12″ (height x circumference) and 5″ x 15.5″. The simplest version uses a fabric that you like the way it looks. For me, the next step was to create rows of decorative stitches with colored thread. Then, I left loose designs and began refining designs that I thought looked like Greek jars or traditional earthenware. They can be used for wooden utensils in the kitchen, filled with flowers or simply left as a decorative object on the shelf. I'm excited to see what you'll create!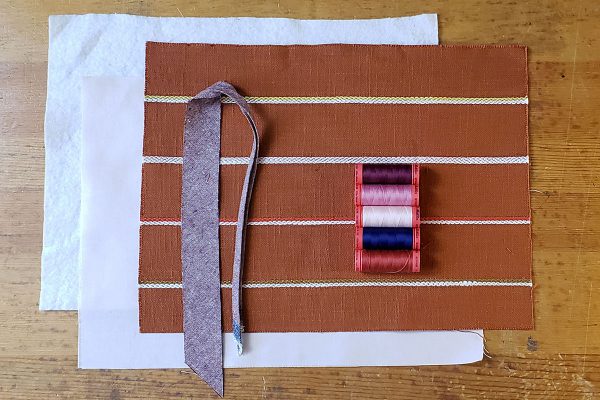 Materials for sewing a fabric vase
glass cylinder vase

Height must be equal to 12 inches or less

Circumference must be equal to or less than 14 inches

Quilting fabric: 2 pieces of muslin or quilting cotton 10.5 x 14 inches

Main fabric: 2-piece measuring 10.5 x 14 inches

These can be solid fabrics, printed or decorative fabrics or cut-out fabrics of your own design.

Batting: 2 pieces of lightweight batting measuring 10.5 x 14 inches

Theme Format: As many colors as you like.

Binding: 2 pieces of 1.25 wide bias tape (before folded) measuring 12-13 inches each.

decorations

You can use trimmings, ribbon, and rickrack to decorate a vase.

Steps to sew a fabric vase
Step 1.
Print the form. There is a 1 inch square on the form to help you sign the printout.
Step 2.
Lay one piece of batting on your work surface followed by one piece of lining fabric (face up) and finally one piece of main fabric (face down). The sandwich should be the batter, the lining, the main. (For enthusiastic filters, this will look like a wrong order but is correct.) Trim the 14-inch edges with an inch seam allowance. Do not stitch the shorter edges.

Step 3.
Trim the excess batting in the seam allowance. Turn the sandwich right side so that the batting is between the lining and the main cloth, which are now facing up. Press to get a nice finished edge on the top and bottom of your work. Laurastar ironing systems do a quick and accurate job of this.

Step 4.
Repeat with the second set of fabrics and batting.
Fifth step.
This is the fun part! Take quilt sandwiches to your sewing machine and stitch from raw edge to raw edge using straight lines and any decorative stitches you like. You may want to use a walking foot. I have been able to use the double feed function on my BERNINA 590. You may also want to use BERNINA Open Embroidery Foot #20 to see where the decorative stitches are landing more clearly.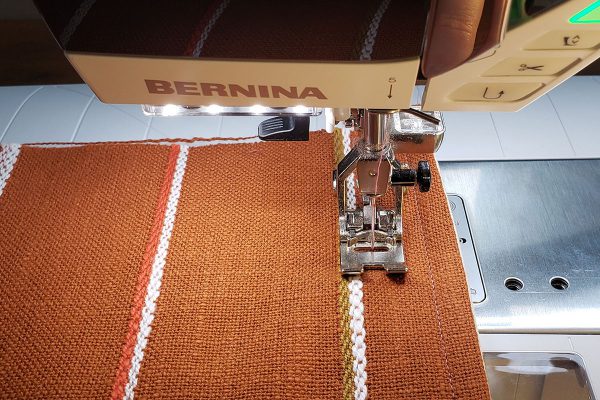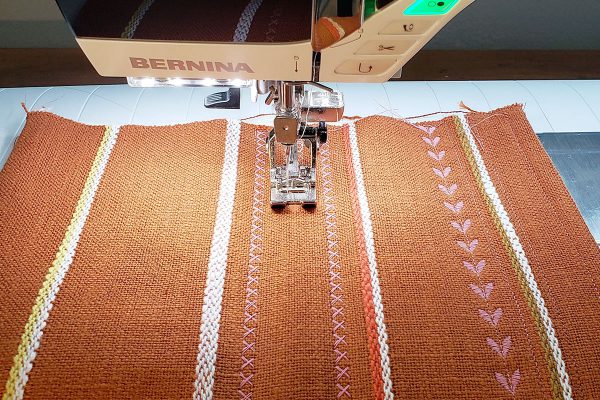 Enjoy. Change topics. Explore all the decorative stitches in your device. I especially love the cross stitch and satin stitch designs. Rows of narrow zigzag stitches of different widths also create bold stripes. When you are satisfied, move on to the next step.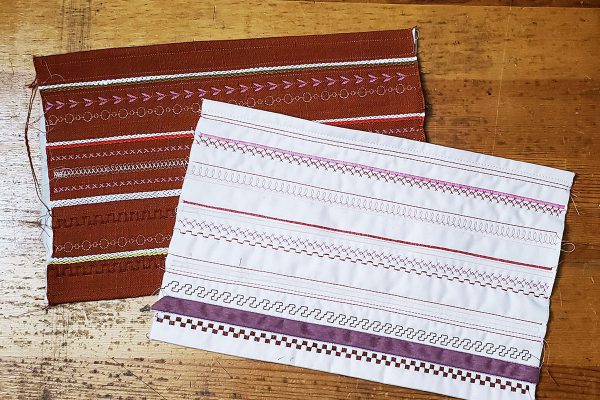 Once I felt confident in the decorative stitches, I got a little excited and started making some cut blocks and then added some decorative stitches to them. Here's what they looked like at this point in the project. Applique raw edge, embroidery, whatever you want!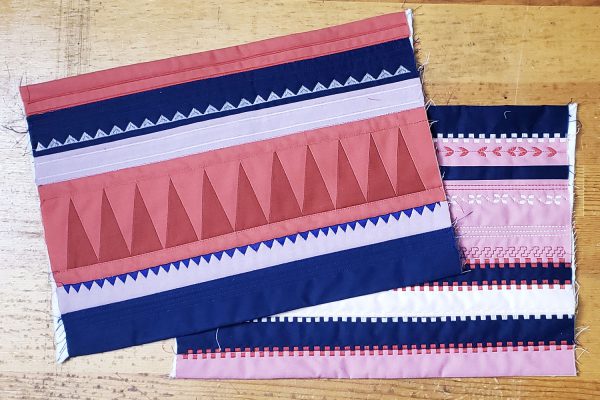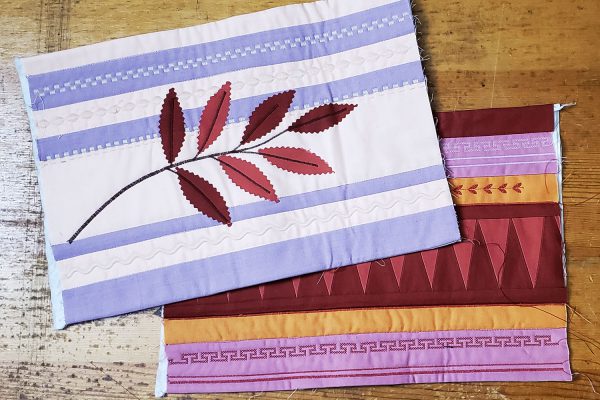 Fold each quilt sandwich in half, matching the raw edges.
Step 6.
Place the template along the fold and trim off the excess. Repeat with the second sandwich.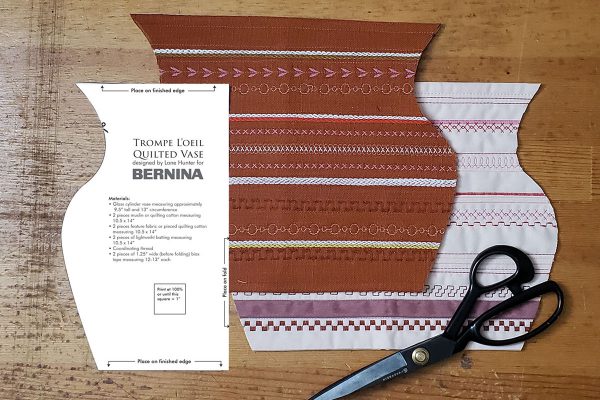 Step 7.
Line both sliced ​​sandwiches with the liners facing out. Open the bias tape and pin the raw edge along the trimmed curve of the sandwiches. You should have at least 2″ of protrusion at the top and bottom of the curve. Stitch along the open fold line of the bias tape across all seams. Move slowly to avoid creasing. I like to use the BERNINA Free Hand System to raise the presser foot and keep my hand on my project to adjust the bias tape as necessary .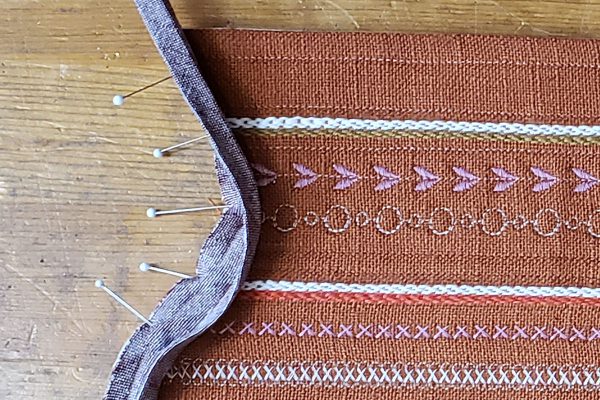 Step 8.
Wrap bias tape around the other side of the sandwiches. Trim the excess bias tape at the top and bottom to about" and fold toward the sandwich. Bend the second fold of the bias tape and pin the fold along the stitches from the previous step. Using Wash-Away Wonder tape to tape this edge in place is very helpful. Edgestitch in place I like to use BERNINA Edgestitch Foot #10 and move my needles over one or two places to get a clean finish.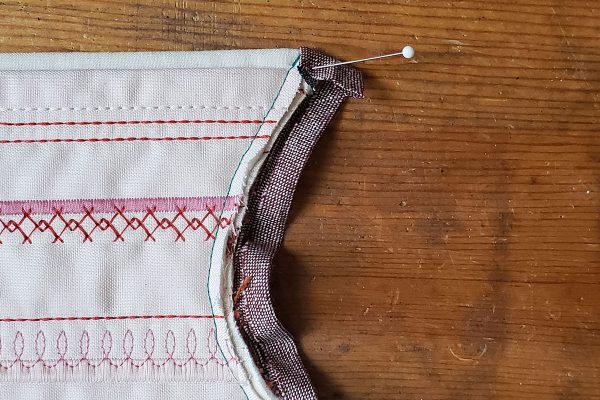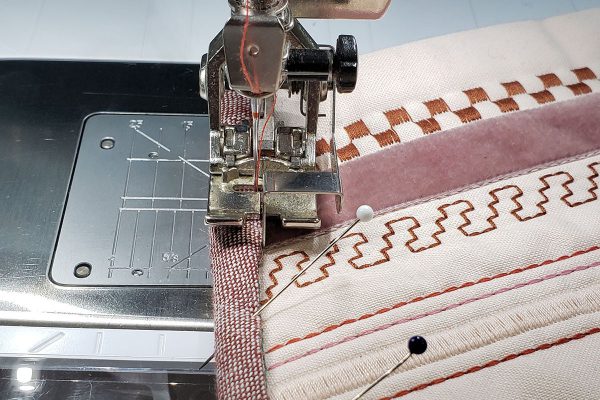 Step 9.
Repeat with the second piece of bias tape and the other raw edges.
Step 10.
Place the fabric vase on top of a glass vase and display it!